GalaktikaSoft creates the Ranet Analytics BI platform
GalaktikaSoft company has completed the first phase of the new open source BI product development. Ranet Analytics is a technology platform designed to create information analytical systems and solutions running under Linux.
GalaktikaSoft's Research team has already provided key architectural solutions to the new Ranet Analytics platform, including an analytics server, client application, and data warehouse running on the Linux operating system.
Up to now, when building its own BI solutions, GalaktikaSoft was guided by the proprietary Microsoft BI platform (Microsoft SQL Server). Working with Microsoft products for many years, we have gained deep expert knowledge and successful practical experience in OLAP technologies. We made the most of our expertise and competencies in the development of the analytics server for building multidimensional cubes (OLAP servers) of Ranet Mondrian. This is a fork of the Mondrian project, supported by GalaktikaSoft.
Mondrian analytical server is a free software. This is a mature, proven brand in the BI market: the first server release was released in 2002. Based on it, we have created a flexible, integrated, scalable and cost-effective solution that can compete with peers. One of the key features of Ranet Mondrian is MS Excel format support. We plan intensive development and reliable technical support for Ranet Mondrian.
As a web client for building and visualizing interactive analytical reporting (Ad hoc) based on OLAP data, we use our own solution - the Ranet OLAP Browser application. The core of the Ranet OLAP library is ported to the .NET Core platform and is compatible with Windows, Linux, macOS operating systems. It supports the XMLA protocol for UNIX platforms.
Ranet OLAP Browser is a cross-platform application focused on the needs of the end user and easy to integrate into other solutions. In fact, this is a ready-made analytic reporting module for OLAP data. Using the Ranet OLAP PivotTable, a non-technical user can make almost any report on their own. The module works effectively both in Top Soft's own BI / CPM solutions and in products of other software manufacturers. Among them: FIS Global, ABBYY, Coupa CV, Software4You, etc.
The data warehouse is built on the relational DBMS PostgreSQL. Ranet Analytics can work with any version of PostgreSQL, including the specialized version of Postgres Pro developed by Postgres Professional.
PostgreSQL is a worthy alternative to Microsoft SQL Server for building enterprise data warehouses and BI solutions, competing on equal terms in functionality, performance, and scalability. It is cross-platform; there are editions for all UNIX-like platforms, as well as for Microsoft Windows.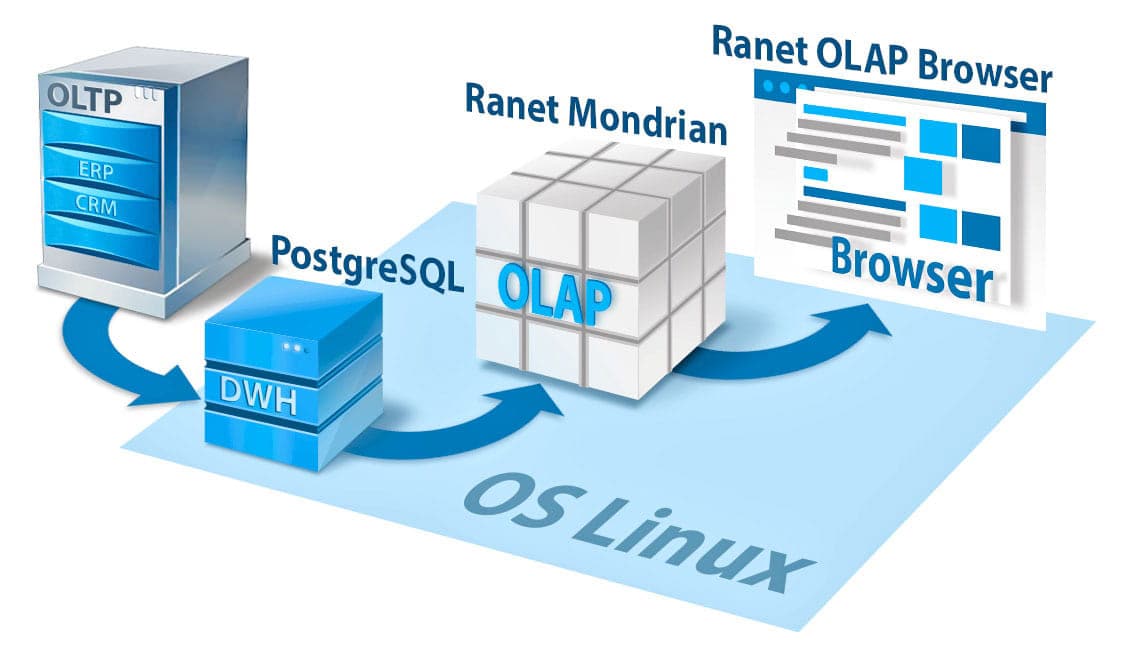 Specialized BI-solutions for analysis of sales, mutual settlements, stocks are already being developed on the new platform, integrated with the Galaxy ERP and T2 ERP systems.
We have no doubt that the Ranet Analytics solution will find worthy application in the market of business analytics solutions.
Companies will receive a modern and effective BI platform, including relational storage, a multidimensional database, query generation tools, construction and visualization of interactive analytical reporting "from one source".
Our solution completely eliminates the use of proprietary software. All integrated products are open source. This is especially important for companies that are unable to invest in expensive proprietary BI platforms.
We make business analytics available to all companies, providing an easier way to respond to market conditions quickly and this way develop more successful competitive strategies.
We will regularly inform readers about Ranet Analytics platform development, its new architectural features and functionality.