Ranet OLAP subscription
Buy one-year subscription and get all the benefits from our data analysis tool. Create your unique reports using Ranet OLAP tools and libraries. Download our 30-days free trial and start testing right now!
Key benefits of Ranet OLAP

Fast and precise data conversion into meaningful information

Less time wasted on BI apps developing

Appropriate for any sphere of company's activity all over the world

Working with business data from any device

Creating reports of any complexity due to user-friendly controls
Benefits of Ranet OLAP for business
You obtain information right on time. Ranet OLAP extracts data from the warehouse and presents information in the intuitive form of a pivot table in seconds.

Flat learning curve. Working with Ranet OLAP interface doesn't require any special training.  It is understandable for both programmers and non-technical specialists. Analytical report templates based on pivottable easy and understand to use to focus on solving business problems.

Our business intelligence reporting software, Ranet OLAP is easily extendable and integrated into inherited systems or other developers' systems.

Analysis Edition for OLAP reveals insidious facts. Using filters and graphic extensions in OLAP allows detecting hidden patterns and trends of company's activities.

It is comfortable. Using OLAP software, you can retrieve the required data anywhere, wherever in the world you are. Cool graphic extensions and controls assist you in making visible and informative reports, that can be exported into MS Excel or an .xml file.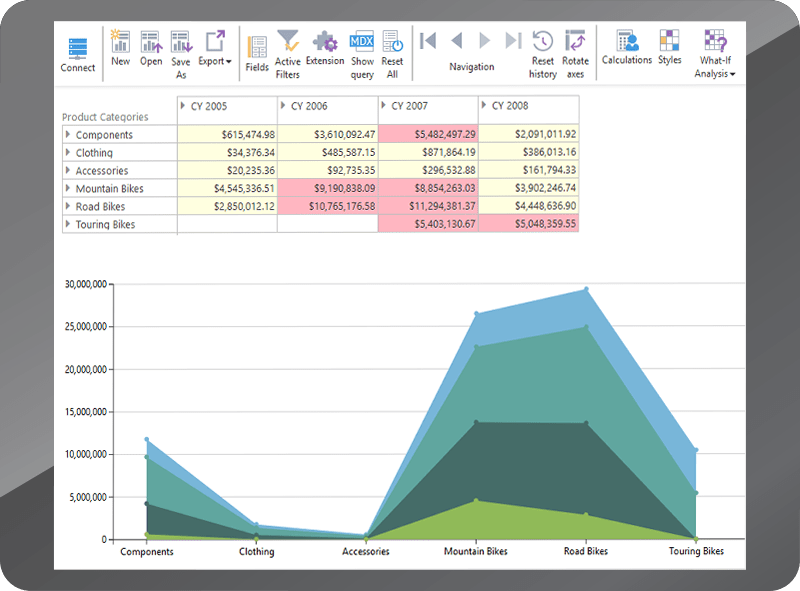 HTML
Next-generation pivot table provides analysis for OLAP data. Built on HTML5, JavaScript, and AngularJS with Bootstrap support. Perfect for developing responsive cross-platform applications.
WPF
OLAP controls for developing powerful WPF-based desktop BI applications. Analytical report templates implement complex analysis methods in just one click. Includes ABC/XYZ, variance, rating, etc. analysis by several indicators. Easy interface style customization using XAML. High adaptability to other UI frameworks
Forward-looking OLAP UI controls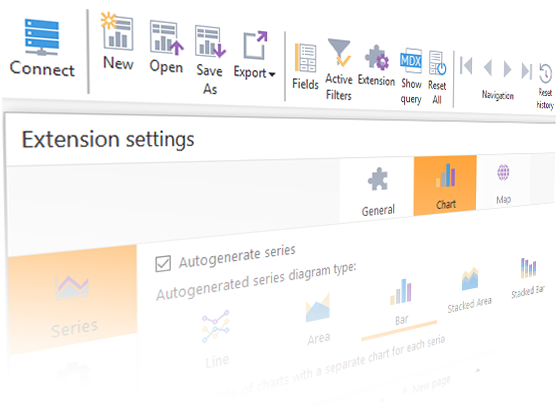 OLAP UI provides users with intuitive toolbars and controls. Functions names and icons are self-explanatory so you don't have to surf on panels trying to find the ones you need right now.
A number of OLAP controls have been designed for better and precise data search and excellent interactive reports making. We embedded dozens of controls and graphic features like sparklines, colour fill etc., so you can make your report or some parts of it more visible.
Ranet OLAP is delivered with documentation and also examples of usage.
Our OLAP systems are everywhere

Developers and businesses all over the world including USA, Western and Eastern Europe, Great Britain, China and Asia, Australia, South Africa, India, and other countries use our OLAP analysis tool. Our OLAP applications are actively exploited in healthcare, construction, service, and other kinds of business industries for effective business decision-making and reliable scientific research.






Rein Parelo
Partner, Optime
Optime uses Ranet OLAP data analysis tool for planning functionality in Optime3 product suite. Business planning is one of the most important management information functions, but the lack of simple and reliable tools often complicates this process. The combination of Analysis Services MDX calculations flexibility and Ranet MDX-based planning forms results in a highly configurable but still simple planning solution.
Hanns-Dirk Brinkmann
General Manager, Software4You
We are using Ranet OLAP analysis tool as the core of our 4PLAN Electric Eye. As part of the 4PLAN Controlling Solutions Family, 4PLAN Electric Eye performs ad hoc data analysis with Microsoft Analysis Services. Its main focuses are flexibility, performance, and ease of use. With this tool, we have found a user-friendly OLAP control to run high-performance MDX queries and a sophisticated pivot table with the functionality we needed.
Greg Edmund
IT Consultant
I was so impressed I just purchased a Saas license just so I can demo the HTML5. I have used this with two other company's I worked for in the silver light days and have watched it mature. The ranet OLAP in the first version blew my mind and every version just got better. The jump to HTML5 has been unbelievable as it just seems to get better every time. Whenever I demo this product to someone there is always a WOW factor that really impresses users. The direction of this tool is the best for displaying data I have ever seen and have been extremely happy.