The relationship between business and data is ever-changing. If a couple of decades ago the main issue was collecting the data about your business, now it is not a problem. With businesses having wide opportunities to gather and store their data, the issue of sifting through a large amount of such unfiltered data, choosing the required one and analyzing it has become critical. Doing it manually is unreasonable and simply impossible, and now this role is perfectly performed by BI analysis tools. Thus, choosing the right data analysis tool can be crucial for your business development.
For someone looking for a business data analytics tool, the options are vast nowadays. However, it is easy to get lost in all fancy features. There are a lot of criteria you should consider in order to avoid it and find the best fit for your business.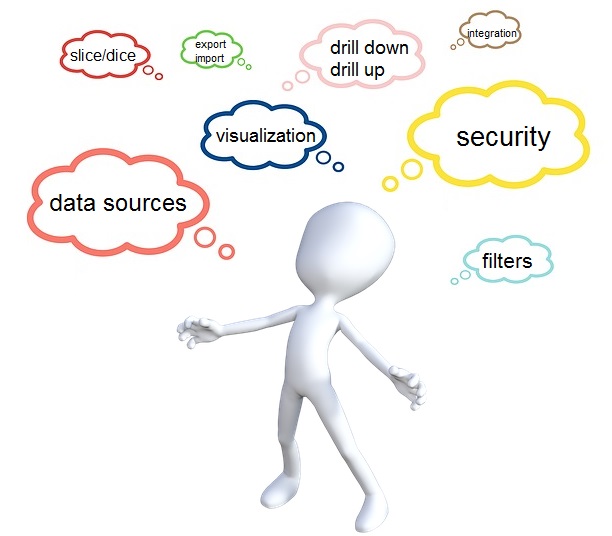 The main criteria for choosing the right data analysis tool
There are several main criteria you should take into account when choosing a data analysis tool for your company.
Data sources. Consider what data sources you need, whether you will use relational or multidimensional data for analysis. Most data analysis tools work with a variety of data sources, but some choose to concentrate on one or two types, such as XML or NoSQL. When speaking about ETL in OLAP, the tools ensure fast data extraction, reliable transformation and safe load for the future processing.
Users' options to select/slice/dice data. More and more businesses try to move such tasks as data analysis and reporting from the IT staff to end users. Thus, BI tools offer more options for non-technical users to perform ad hoc data analysis and reporting. Before choosing the tool, consider what opportunities it offers for end users and what special skills it requires (if any).
Filters, Drill down/up, Drill through. In order to work effectively with large amounts of data, users need wide opportunities to filter the analyzed data and quickly go from aggregated to detailed data and vice versa. Wide filtering opportunities are absolutely critical for a modern business data analysis tool. It should be noted that OLAP data structure is intuitive due to these Ranet OLAP functions and comfortable pivot table which can be integrated in ASP.NET applications. The process of building ASP.NET pivot table is explained in detail in our blog.
Security. If your data is used by different departments/teams/end users that can access limited data sets, it is of utmost importance to choose the tool offering efficient security options. Luckily, more and more BI vendors make it their priority to defend their customers' data. Modern analysis tools, including Ranet OLAP, offer options to set up different user data access levels.
These aspects are worth considering, too…
Visualization options. It is important to consider whom will the results of the data analysis be presented to, and in which form. If the audience is not business analysts or experts in the field who can easily understand and see the trends in numeric data, data visualization can be very important. You can read about data visualization options modern ad hoc data analysis tools offer in one of our recent blog posts.
Export/Import/Sharing. If the reports created with the tool need to be used by various teams or users that can work at different locations, it is important that the tool have options to export ready reports into formats that will be easy to share and use again.
Predictive analysis. In case you need to not only analyze the actual data from different perspectives but also understand how certain indexes will change depending on certain values, select a tool offering what-if analysis or similar features. MDX parser is a helpful tool for extraction of the required data combinations and does not present any difficulty for users without technical background.
Learning curve. Consider how easy-to-use the interface is and whether your employees will need special training to start working with the ad hoc data analysis software you chose.
Ease of integration. If you need to integrate the tool into your application, study the API and customization options it offers in advance.
Of course, the list is far from being complete. There are other important aspects you should consider before choosing the right data analysis tool for your business, such as the budget, number of users, technical documentation and support, etc. However, we hope this post was useful in giving you the idea of what to look for in the first place.